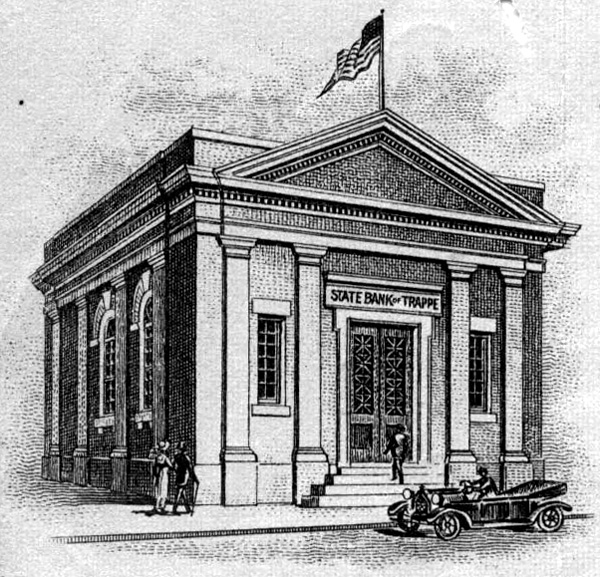 The old bank building on Main St. when it was young on an engraving from a 1920 check. The engraver exaggerated the building's size making it seem twice as big (and so twice as impressive) as it actually was. Originally it was the State Bank of Trappe, next the Farmer & Merchant's Bank of Easton, then the Liberty Bank and finally Union Trust. It closed in the 1960s.
---
TRAPPE'S BANKS

The Trappe Savings Bank of Talbot Co. opened in 1889 and operated out of E.A. Powell's store. It was absorbed by the State Bank of Trappe in 1918. The charter for the Citizenšs Deposit Bank of Trappe, Maryland was approved in 1906 but there is no record of operations. The State Bank of Trappe opened in 1917 in a new brick building on Main St. and closed on Aug. 8, 1931. It went into receivership and reopened as a branch of the Farmers & Merchants Bank of Easton, Md. on Nov. 2, 1931. Farmers guaranteed 80% of the deposits. Farmers and Merchants went into voluntary liquidation in 1947 and the Trappe branch was taken over by the Liberty Bank of Easton in 1948. Liberty Bank merged with Union Trust in 1962 and Trappešs branch closed in 1963. [Meeks, Maryland Bank Register 1790-1964; Baltimore 1966 courtesy of R. Lee Burton Jr. with some additional material]
Trappe then had no bank until Maryland National Bank opened up a branch on April 3, 1967 in a remodeled building which had been Vicšs Place on Rt. 50. This closed early in 1983 and the building was bought by The Unicorn Bookshop. Union Trust Bank opened up a branch in an addition to the bookshop building on May 7, 1984, which closed in March 1989 shortly after it had become the Signet Bank. The room was then taken over by the bookshop.
Farmers, Liberty and the first Union Trust branch all used the 1917 bank building which later was converted into an apartment. It was said the steel door to the vault was replaced by a wooden one so it could be used as a closet.
---
Photo below shows the old bank building as it looked March 2005.