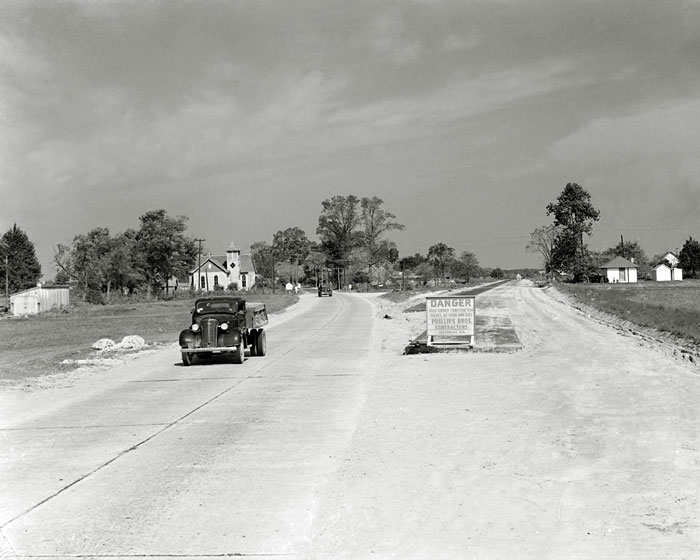 On Oct. 26, 1935, the Choptank bridge opened along with a new 4.5 mile stretch of road from the bridge north to Main St., Trappe. This became part of Rt. 213 which now rerouted down through Easton and Trappe and over the new Choptank bridge to Cambridge. Previously Rt. 213 had gone east over the Choptank at the old Dover bridge and then south.
The new bridge shortened the drive from Easton to Cambridge by 15 miles. Trappe is now on the main route to Cambridge, Salisbury and Ocean City, so traffic on Main St. triples. The jam of cars from all parts of the country on opening day would be a mixed blessing and a hint of things to come. Trappe merchants were delighted with the sudden influx of cars funneled through the town's narrow main street, but residents were plagued by the inconvenience and noise.
Because of that, another section of highway was added in 1940 which by-passed Trappe. This new 5.75 mile span was added to the 1935 4.5 mile span from the bridge to Trappe. This 10.25 mile section of highway from the bridge to Peachblossom was the birth of Rt. 50 in Talbot Co.
This is a photo of that highway under construction at Trappe in 1940. Wilber Greene's saw mill is at the extreme left, then Scott's church. The sign reads "DANGER/ Road Under Construction/ Travel At Your Own Risk/ Phillips Bros./ Contractors/ Salisbury, Md. The dump truck is a 1936 or '37 Chevy.