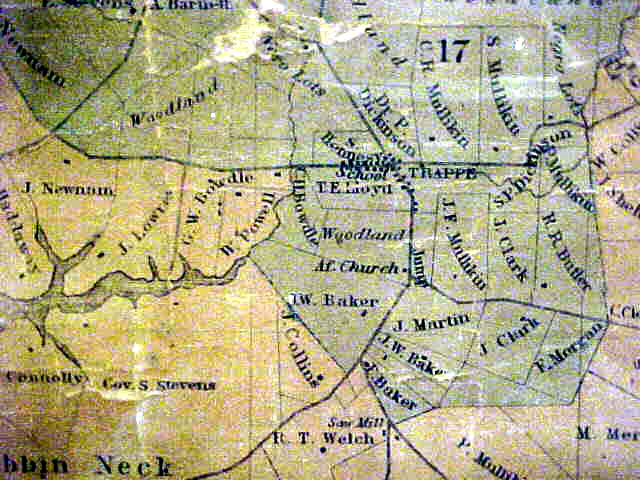 Trappe: little is known about Trappe's early history. The name was originally spelled Trap and the first recorded use was in 1783. It is thought that the name came from a tavern that was shaped like a wooden partridge trap. There is no truth to the legend it was named after a nearby monastery of La Trappe monks. There was no monastery here.
Scotts Church on south Main St. was the site of the first Quaker meeting house in the area built in 1696 which became the "African" M.E. Church in the 1840s and then Scotts Methodist in the late 1860s. The site of Trappe's current United Methodist Church at Maple and Powell has been home to the Methodists since 1784. Two 18th century houses in town are the Dickinson House at the nw corner of the downtown intersection and the Kemp house on S. Main St. The Adams house on S. Main St. dates from the mid 1800s and is Trappe's only mansion.
The town was incorporated in 1856 as Trappe. Two of its favorite sons are Frank "Home Run" Baker who was inducted into the Baseball Hall of Fame and Nathaniel "Nace" Hopkins an ex-slave who helped start a parade to celebrate Emancipation Day in 1867 and who also helped found Trappe's first African American school. The Nace's Day parade continues into the 21st century.